The Bioinformatics Education Summit, co-organised in 2023 by the RItrainPlus Knowledge and Staff Exchange programme, provides a platform for discussion, development and dissemination of advances, guidance and best practice for training and education in bioinformatics as part of a global network. While the focus is on bioinformatics as a use case, many of the topics are applicable to training for any field. Held as a working meeting (rather than a conference or workshop), its goal is to promote the advancement of training and education through the development of resources, best practices and guidance for delivery, all of which are made openly available to the global community through its partner networks.
The 2023 meeting, 15-17 May, was held on the Wellcome Genome Campus, Hinxton, UK and co-organised by RItrainPlus, through its ELIXIR/EMBL-EBI partner, and Wellcome Connecting Science, with input from the global community. Lively discussion characterised all three days of the meeting on topics including 1) implementing, extending and accrediting competencies, 2) fostering communities of practice, and 3) 'green' (sustainable) training practises.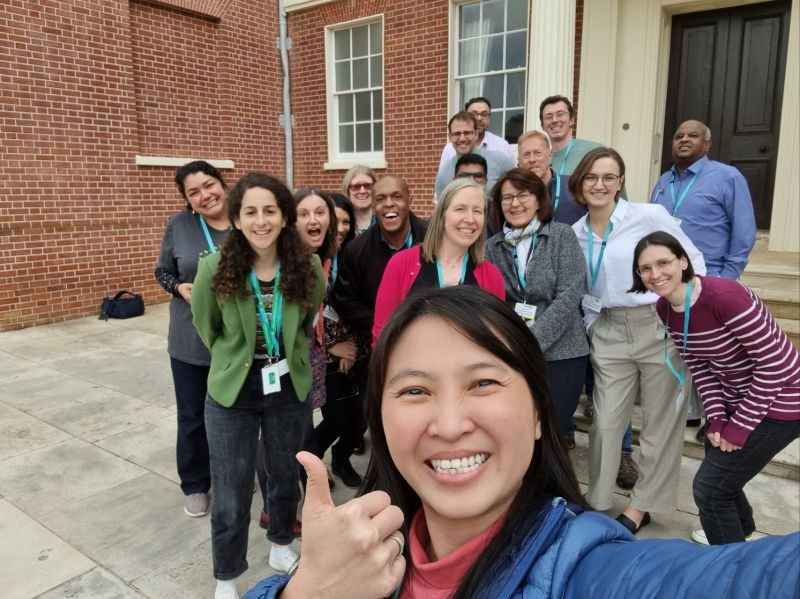 RItrainPlus provided travel bursaries to support two training operators to attend the meeting. Their reflections and takeaways from the meeting are detailed below.
Wai Keat Yam, International Medical University Malaysia, Asia Pacific Bioinformatics Network (APBioNET), Global Organisation for Bioinformatics Learning, Education and Training (GOBLET):
Fruitful! That was my 1-word to describe my participation in the Bioinformatics Education Summit (BES) 2023! Really thankful to meet like minded and passionate people in Bioinformatics education and training! I am honoured to be present physically at Wellcome Genome Campus, representing Asia Pacific Asia Pacific Bioinformatics Network (APBioNET) and Global Organisation for Bioinformatics Learning, Education and Training (GOBLET).
The BES2023 is a very special event as it was a working meeting and we were practically working, discussing and writing all the time. We talked about health data science competencies, ISCB accreditation, FAIR concepts, Community of Practice, training in LMICs and Green training! Most importantly, I finally met some of my colleagues face to face after years of meeting virtually!
None of these would be possible without the support from RItrainPlus and GOBLET!
Varun Shamanna, Global Health Research Unit, Central Research Laboratory, KIMS, India:
This is my first time attending the Bioinformatics Education Summit (BES). It was a valuable and informative event, with lots of knowledge on Bioinformatics training. I'm new to the field, so I'm still learning about all the different committees that exist. I come from a research lab that conducts training only with some international collaborators, so I didn't have much exposure to these committees before. I had the pleasure of meeting with representatives from GOBLET from the UK, LifeScience trainers from the USA, and APBioNET. It was a great opportunity to learn more about their work and to network with other professionals in the field. I am grateful for the opportunity to have met these representatives and to have learned more about their work. I am excited to continue to collaborate with them in the future.
The summit covered a wide range of topics related to bioinformatics education, including the ISCB competency framework, green computing, and building communities of best practice. I particularly appreciated the opportunity to network with other bioinformatics educators from around the world. Overall, I believe that the Bioinformatics Education Summit is an important event for the bioinformatics community. I would encourage other bioinformatics educators to attend the next summit.
I thank Wellcome Connecting Sciences and EMBL-EBI for hosting the summit and RItrainPlus for supporting me with the travel grant to attend the event.
Exchange of experience for training operations during a three day working meeting