Overview
Coaching development program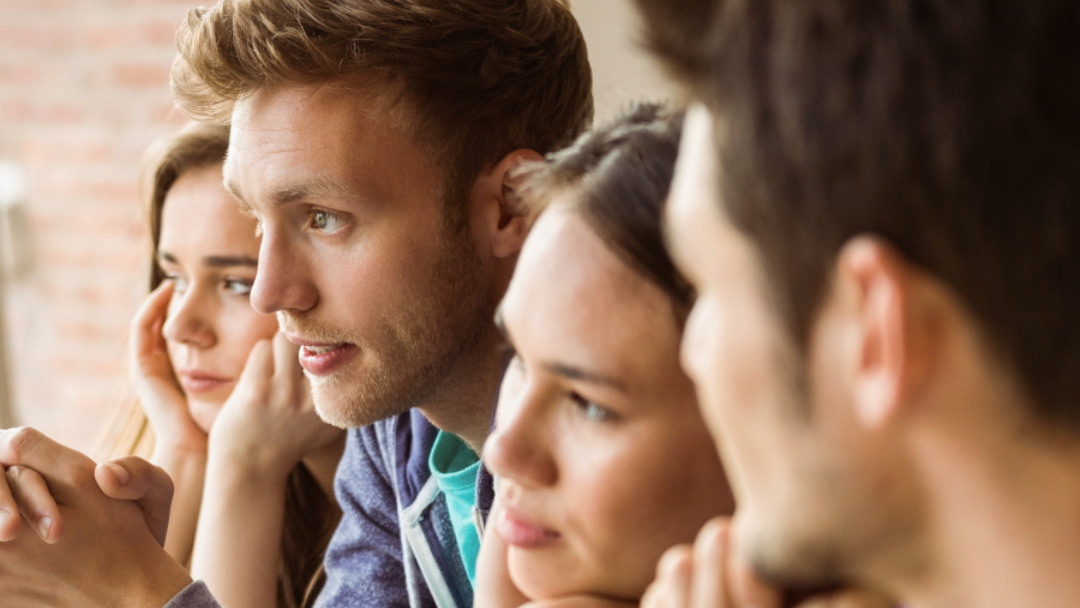 Date:
Online lectures (14,5 h) 1.6.–30.6.2023
Onsite training (12,5h) 15.6-16.6.2023 at the Complutense University, Madrid, Spain
Learning model: Learning by doing, crowd learning, online masterclasses, online reading materials
In this short course, the participants are invited to co-create a coaching programme for managers and directors of RIs and CFs, that will enable managers to implement new management skills in their own RI instead of seeking support from external consultants.
This coaching development programme is created with the purpose of providing an innovative methodology to people who are dedicated to the development of talent or to professionals who wish to incorporate it into their day-to-day work, adding value to the work they already do. The short course builds on the neuroscientific knowledge of human resilience. Participants will acquire the coaching skills and competencies that they will be able to bring to their organisations.
Target Audience
The short course is aimed at managers, operators and other professionals in Research Infrastructures or Core Facilities.
Learning outcomes
Learning outcomes
This short course is divided into three sessions.
Session 1 – Leader coach preparation 

In the first stage, the basics of human growth will be addressed from the basis of neuroscience and resilience: how to be an architect of my brain and how to apply the functioning of my brain in self-discovery and personal growth. Participants are trained in the preconditions, competencies, and attitudes they need to have as coaches.

Key learning outcomes

Trained in non-judgmental competence
Acceptance of self and others. Humility
Self-control: stop and think
Gain in resilience
Emotional management
Empathy
Session 2 – Coaching conversation: Emotional part

The coaching process will be deepened in the second phase of the short course. Tools for assertive and intelligent communication. It focuses on handling the rational and emotional part of the coaching conversation with all the required resources and distinctions. Further work will be done on the competencies and skills that a coach needs.

Key learning outcomes

knowledge about verbal and non-verbal communication
intelligent communication technique
communication techniques with coaching tools
personal growth and empathy for communication
creating context and observation as a framework for conversation
rapport
deep listening
powerful questions
mirroring
reframing
feedback
Session 3 – Coaching session: Rational part

The third stage of the program is dedicated specifically to the practice of coaching in real processes, with real objectives. The aim is to integrate what has been learned and practised in the classes and enrich it with the coaching tools provided. This practice strengthens the coach's strategic skills and the relationship with the coaches.

To be able to carry out a coaching conversation by considering the five basic steps of a coaching conversation such as:

subject (empathize)
objective (dreaming)
reality (explore)
options(generate)
action plan and commitment (concretize)
The programme
The Programme
INTRODUCTION – 01/06/2023 ONLINE – FROM 09:00-13:00
Program presentation, objectives, methodology, and development.
What they will have achieved by the end of the course.
Contextualisation: Revolution 4.0
What´s coaching and What´s not?
How coaching is appliedRecommended Readings prior to presential training Opening.
Module I at the e-learning platform ( reading, videos, didactic material, etc).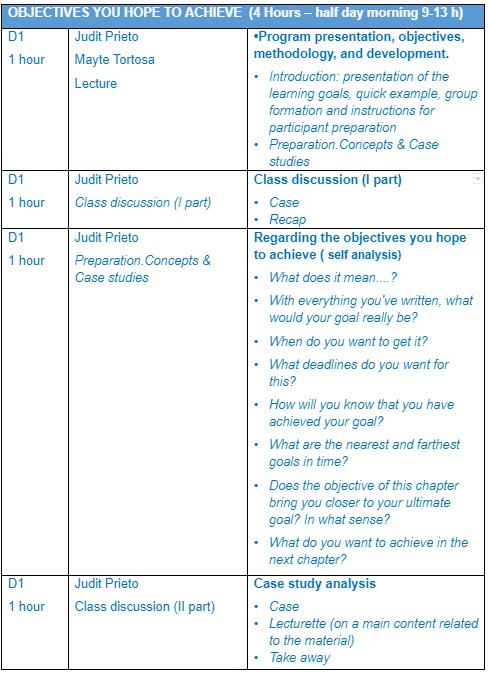 SESSIONS 1 – 9/06/2023 ON-LINE – 09:00-13:00
Basic notions of how the brain and the mind work and how to enhance them to develop one's own and others' talents Biases and their influence on the way we perceive reality, and consequences. Tools for self-improvement. Practices A healthy ego, development. Difficulties and challenges (Practical) Coach leader competencies: knowing, knowing how to do, and knowing how to be Values of the coach leader Mission and personal life project of the coach leader Ethics in the performance of coaching at work. Exemplarity of the leader. Introduction to creative thinking Verbal and non-verbal communication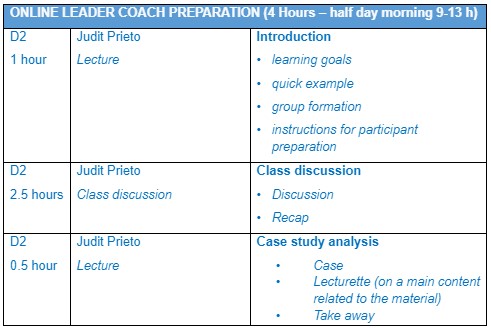 SESSIONS 2 AND 3 – 15/06/2023 13:30- 18:30 | 16/06/2023 09:00-12:30 – 13:30-17:30
Cognitive and Emotional Brain and Stress Management Self-motivation, Joy, and Self-esteem Confidence building Deep and empathic listening Resilience Meta-learning and feedback How to focus a coaching conversation: issue, reality, objective, powerful questions, and action plan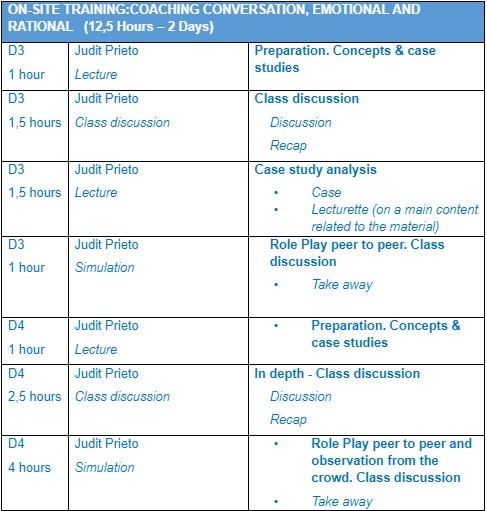 22/06/2023 | 23/06/2023 | 29/06/2023 | 30/6/2023
After sessions 2 and 3 are finished, there will be several classes of concept deepening and practice to integrate all that has been practised in the in-site modules, where experiences, doubts, etc. will be shared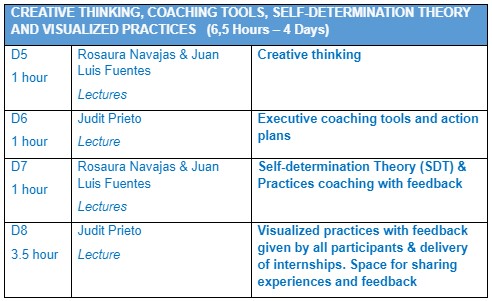 The Faculty
The Faculty
| | |
| --- | --- |
| Name | Short Bio |
| JUAN LUIS FUENTES | Associate Professor at the Department of Educational Studies, Faculty of Education – Teacher Training Centre, Complutense University of Madrid (UCM). Dean´s Delegate for Communitarian Relations, Participation, and Cooperation; and Academic Coordinator of Advanced Studies in Social Education Master Degree. Manager and member of the Research Group "Civic Culture and Educational Policies". He has also been Visiting Scholar at Eastern Washington University (USA), Roehampton University (United Kingdom), Freie Universität (Germany) and University of Birmingham (United Kingdom). He has a Degree in Pedagogy, a Degree in Social Education, and a PhD in Education from UCM. |
| MAYTE TORTOSA | Expert in professional and executive, team coaching to help people grow up, embrace the change, reskilling and upskilling. Training and development of talent at corporates, middle companies and start up ecosystem and entrepreneurs, lecturer and podcaster (Grow up talent).CEO & Founder of YUGROW ( Yucoach Services, S.L.). Master in executive, professional and team coaching by UAM. Master in Human Resources, Compensation & Benefits espec. by Escuela de Negocios Garrigues. Graduated in Law by UAM. |
| ROSAURA NAVAJAS | Specialist in Coaching and Emotional Education for Educational ExcellenceDiploma in General Basic Education Teaching.Doctorate by UCM. Coaching methodology in teacher training for competence development and professional enhancement. |
| JUDIT PRIETO MONTERO | Expert in personal and professional coaching, as well as team and systemic leadership. Emotional Intelligence and Educational Coaching. Social educator.Master Degree Audiovisual Communication, Bachelor Degree in Social Education, Expert in personal, executive and systemic and team coaching by EFIC and Crearte. (ICF). Diploma in Drama by City Literature Institute of London. |
| JAVIER CUERVO LÓPEZ | Learning Advisor, LEINN degree lecturer and trainer, LEINN Mentor & Digital Economy lecturer, e-commerce expert, digital marketing expert, Big Data, Analytics and Artificial Intelligence expert.Chemical Degree in Organic Chemistry. Master of Management, Marketing and support Services Business of IESE Business School- University of Navarra Executive MBA Business Administration and Management at Escuela de Organizacion Industrial. |
How to apply
How to apply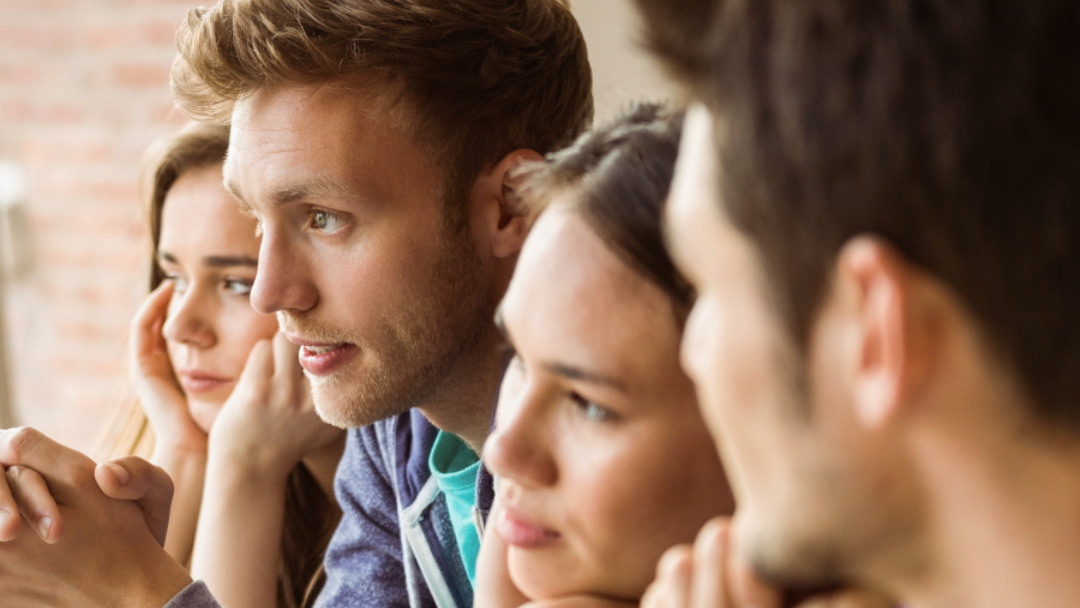 Application period starts 3 April 2023 and ends 5 May 2023. Selected participants are informed via email by 15 May 2023. If the participant wishes to cancel their participation, they are required to inform the organisers at least 2 weeks prior to the course.
Apply by filling in the form and upload your CV (max 3 pages)
Cost
The pilot short course is offered free-of-charge and requires the participant's full commitment during lectures, group work and written assignments.
Info
Info & Contact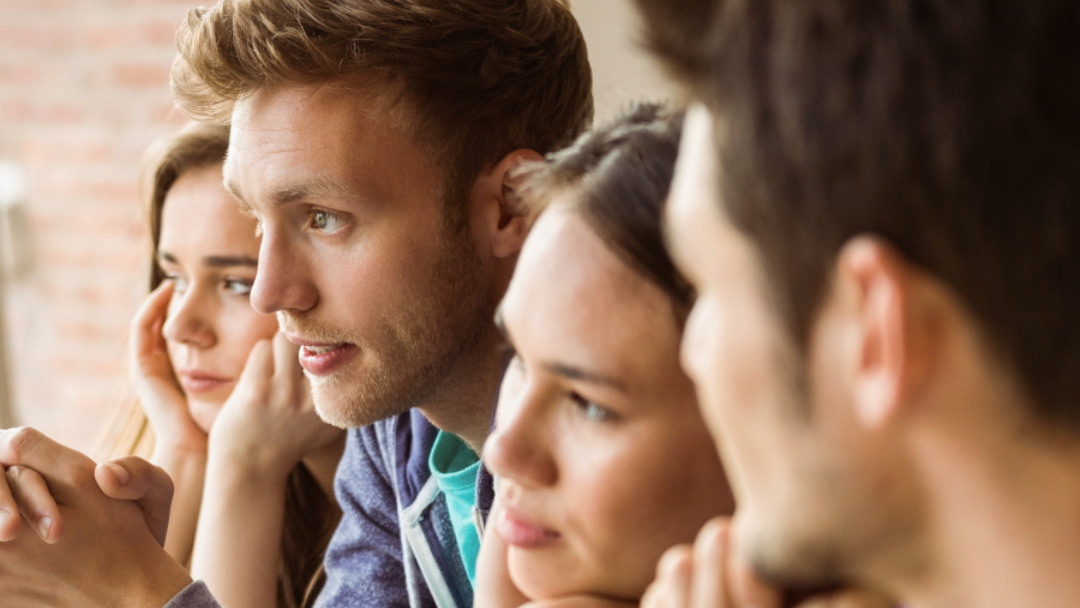 To pass the course the participant must attend at least 80% of the lectures.
The evaluation of the program will be done by the participation of the participants in each of the Sessions, the presentation of their feedback on what they have learned in the module itself, and at the end of the program the final feedback of one of their practices in the application of the coaching methodology.
During the months of the program, the participant practises what they learn and reflect on the results to continue learning from the outcome, whether it has been a success or not.
For any doubt or information, please see the FAQs below or send an email to ritrainplus[at]unimib.it
Practical info
Classroom
Hiperaula 1, Education Faculty, building 2, Calle Rector Royo Villanova 1, Universidad Complutense de Madrid
The Faculty of Education is located in the  Moncloa Campus, in the northeast sector, between the streets Rector Royo Villanova and Avenida de las Moreras. The center can be accessed from both streets, although the main entrance is located at:
c/ Rector Royo Villanova, 1. 28040 Madrid.

The Faculty of Education can be reached by Metro or bus. The nearest Metro station is Vicente Aleixandre (line 6), exit to Juan XXIII, but it is also very close to Francos Rodríguez station (line 7), exit to Pablo Iglesias by the elevator.
The nearest bus lines are: Circular, 45 and 132.
Accomodation
More info here: https://www.ucm.es/english/housing-office
FAQs
Why should I take this programme?

The programme is aimed at managers, operators and other professionals at Research Infrastructures and Core Facilities.
Who is behind this programme?

The pilot programme is designed by academic and educational experts in the RItrainPlus project who have a long experience working or leading Research Infrastructures or other scientific institutions.
How is the programme organized?

The programme is divided into seven short courses, each containing sessions. The short courses take up 16–32 hours each, plus individual work.
How do I take part?

The participants can take up either the whole programme and progress from one short course to the next, or take an individual short course that best fits their needs. For those interested in taking up the whole programme, it should be noted that some activities will be overlapping. Participants are advised to check the course schedules for more information.
What's expected of me?

The participant is expected to participate in at least 80% of the scheduled activities. The courses are assessed in various ways.
Do I have to take all the sessions in a short course? Can I just choose what I like?

The participant needs to participate in all the modules in the short course.
What does it cost?

The pilot courses are offered free of charge
How are the courses taught?

Most of the short courses are offered as online intensive courses that take up 2-6 consecutive days. The courses are taught by experienced academics at RItrainPlus partner universities and institutions with invited international experts.The courses will be delivered in the period June-September 2023.
How do I apply?

The application period is 03.04.2023 – 05.05.2023. Apply to the short course by submitting a short motivation letter and your CV. The chosen applicants will be informed via email by 15. 05. 2023.
When will I know if my application has been accepted?

Selected participants are informed by May 15th.
What if I realize that I cannot participate anymore after I've been admitted to participation?

If the participant wishes to cancel their participation, they are required to inform the organizers at least two weeks prior to the starting of the course
Coaching development program