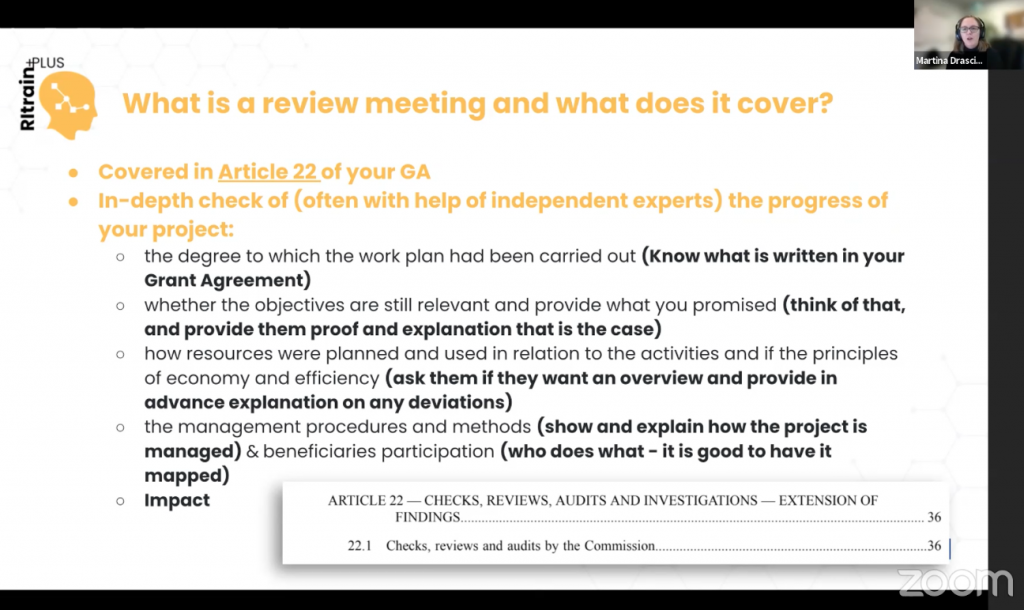 CoP Meeting 13 January 2023
Author: Maja Dolinar (Slovenian Social Science Data Archives (ADP)), Irena Vipavc Brvar (Slovenian Social Science Data Archives (ADP))
The RItrainPlus Community of Practice meeting held on January 13th was a great success, with participants learning valuable tips and tricks to help them prepare for their next review meeting. With presentations from experts in the field, Martina Drascic Capar from the Consortium of European Social Science Data Archives (CESSDA), Vasso Kalaitzi from Data Archiving and Networked Services (DANS), and Marieke Willems from ELIXIR Hub, the webinar covered a wide range of topics, including the timeline, relevant documentation, and different perspectives of those involved in the review process.
One of the key takeaways from the webinar was the importance of understanding the timeline of the review process. The speakers emphasised the need to be aware of the different stages of the review process, from the original Grant Agreement to the final review, and to be prepared for each stage. Participants learned about the steps involved in the review process, where to find relevant information, and what to think of in terms of documentation.
The speakers also shared tips on how to approach the review process from different perspectives. From the coordinator's perspective, it was important to understand the overall goals and objectives of the project and to ensure that all partners were aligned with these objectives. From the Work Package (WP) lead's perspective, it was important to be clear on the specific goals and objectives of each WP and to ensure that these were being met. From the partners' perspective, it was important to understand their roles and responsibilities within the project and to ensure that they were meeting their obligations.
In addition, the speakers provided valuable insights into Horizon Europe and the changes coming to the participants portal. Participants learned about some of the new features of Horizon Europe and how these would impact the review process. They also learned about the changes to the participants' portal and how to navigate the new system.
Overall, the RITrainPlus Community of Practice meeting was a valuable opportunity for participants to learn about the review process and gain insights into how to prepare for their next review meeting.
The RItrainPlus CoP provides a forum for discussion about relevant issues and opportunities for knowledge and best practices sharing through a peer learning approach that would support research infrastructures (RIs) and core facilities (CFs) in their specific managerial and operational challenges. The CoP offers new community meetings every two months, and by signing up, you will be able to access the meeting recordings and materials. This is a great opportunity to learn from experienced professionals and stay up-to-date with the latest best practices in the research infrastructure landscape. Sign up to the RITrainPlus CoP!
How to prepare for a review meeting: Tips and tricks