Authors: Maja Dolinar (Slovenian Social Science Data Archives (ADP)), Ennio Tito Capria (European Synchrotron Radiation Facility (ESFR)), Irena Vipavc Brvar (Slovenian Social Science Data Archives (ADP))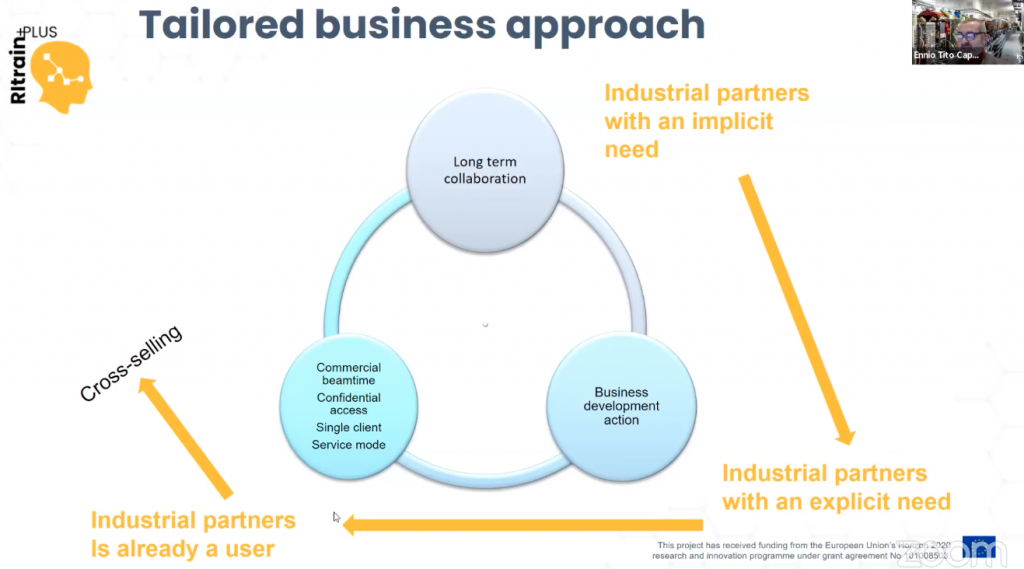 Are you interested in learning how research infrastructure and industry can work together to drive innovation and solve real-world problems? Then look no further than the recent RItrainPlus Community of Practice meeting that was held on March 31, 2023. The meeting brought together experts in research infrastructure and industry to share and discuss the challenges and opportunities of collaboration between the two sectors.The lively discussion provided a glimpse into the future of research and innovation, and we can't wait to share the highlights with you!
One of the main bottlenecks identified in previous experiences was the translational challenge between technique and solution. This means that while research infrastructure may have the necessary techniques to solve industry problems, there may be a disconnect in applying those techniques to provide a solution. Another challenge identified was the need for specific resources to work with industry, such as the rise of Industry Collaboration Offices (ICOs).
To overcome these challenges, it was suggested that building awareness and providing training and education is necessary. This includes informing, promoting, and training individuals in the industry about the capabilities and resources of research infrastructure. Additionally, there is a need to develop trust and adapt the approach to the industrial context.
The event also discussed the potential of research infrastructure as innovation hubs. While research infrastructure has the potential to provide advanced services and data, there are challenges in fully exploiting this potential. These challenges include imperfect communication, lack of awareness of the needs of economic actors and opportunities of research infrastructure, entry barriers for access, and insufficient human resources at the interface between research infrastructure and the commercial sector.
To overcome these challenges, it was suggested that creating a more efficient integrated and coordinated ecosystem for research infrastructure and industry is necessary. This includes involving every player in the socio-economic value chain, including public authorities at local, regional, national, and European levels.
The event also discussed the importance of marketing tools that are adequate to targets. This includes outreach and awareness-raising to inform industry about access mechanisms, creating a network, and tailoring a business approach to the specific needs of industrial partners.
Overall, the event highlighted the importance of collaboration between research infrastructure and industry. By addressing the challenges and opportunities, it is possible to fully exploit the potential of research infrastructure as innovation hubs and provide solutions to industry problems.
The RItrainPlus CoP provides a forum for discussion about relevant issues and opportunities for knowledge and best practices sharing through a peer learning approach that would support research infrastructures (RIs) and core facilities (CFs) in their specific managerial and operational challenges. The CoP offers new community meetings every two months, and by signing up, you will be able to access the meeting recordings and materials. This is a great opportunity to learn from experienced professionals and stay up-to-date with the latest best practices in the research infrastructure landscape. Sign up to the RITrainPlus CoP!
Unlocking the Potential of Research Infrastructures for Successful Collaboration with Industry: Identifying the Right People and Attracting them